Listen to Girls Strings Unit NOIR's Beautiful Harmony in "Soul's Refrain" Music Video
About 14 months after its digital release, four-member girls string unit NOIR posted a five-minute music video for their cover version of "Tamashii no Refrain / Soul's Refrain" on Victor Entertainment's official YouTube channel. The song was originally performed by Yoko Takahashi in 1997 as the theme song for Neon Genesis Evangelion: Death and Rebirth.…
About 14 months after its digital release, four-member girls string unit NOIR posted a five-minute music video for their cover version of "Tamashii no Refrain / Soul's Refrain" on Victor Entertainment's official YouTube channel. The song was originally performed by Yoko Takahashi in 1997 as the theme song for Neon Genesis Evangelion: Death and Rebirth.
Victor Entertainment describes the unit's profile as below:
"Four units of musical androids created by a mad scientist = NOIR. From anime songs, classic covers, to their original tunes, this is a brand new Girls Strings Unit featuring the highest level of techniques, stage performance, and sound quality. It's like a future dreamed by the science in the 20th century."
They released five digital singles one by one monthly in 2018: "Soul's Refrain" (August), "Night of Bald Mountain" (September), "Moonlight Densetsu" (October / TV anime Pretty Guardian Sailor Moon OP song), "Fly me To the Moon" (November / TV anime Neon Genesis Evangelion ED), and "Kimi wo Nosete" (December / Laputa: Castle in The Sky theme song).
Digital single jacket: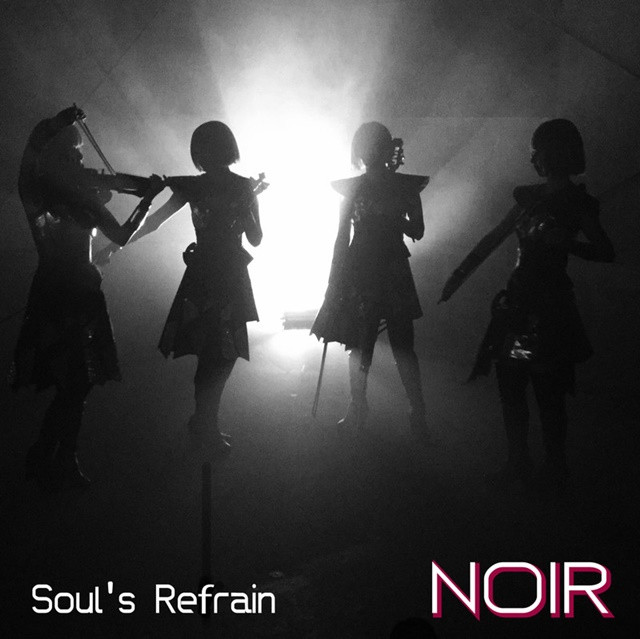 ---
Source: Victor Entertainment official YouTube channel
©2019 JVCKENWOOD Victor Entertainment Corp. All rights reserved.