Multilingual Singer Elizaveta Khripounova Pens Heartfelt Tribute Song "Meet Again" To Kyoto Animation
In the wake of the Kyoto Animation tragedy, Russian-American singer-songwriter Elizaveta Khripounova has penned a tribute song to the studio to pay her respects to those who lost their lives and to those who have a long and painful road to recovery ahead of them. The song is titled "Meet Again" and is available now…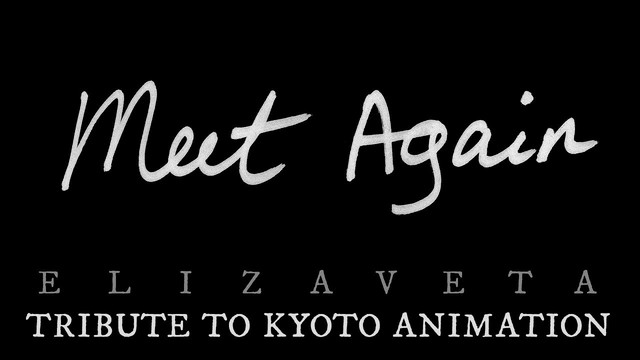 In the wake of the Kyoto Animation tragedy, Russian-American singer-songwriter Elizaveta Khripounova has penned a tribute song to the studio to pay her respects to those who lost their lives and to those who have a long and painful road to recovery ahead of them. The song is titled "Meet Again" and is available now on iTunes and Bandcamp. The lyric video is embedded below:
In an interview with the Japanese Subculture Research blog, Elizaveta explains the genesis of the song:
I wrote "Meet Again" the day I went to the recording studio, and the song practically wrote itself. I heard it in my head, and the lyrics came to be just minutes before I walked out to catch the train. This recording is the first take, which we recorded and filmed. It wasn't quite perfect in a couple of places, and so I did another take, but I had a hard time singing then, because I was too close to tears. And so I made the decision to keep the first take, as it was, and record no more. 

I wrote this song as a way to heal myself, even though I was just a bystander of this tragedy. I hope it may serve as a source of healing to others affected by it. I still have hope and faith. There are so many things we do not know, and so much happens every day, which makes it hard to take heart and carry on. But carry on we must, and help those around us do so, too.
The lyrics to the song in English:
I don't remember when

I got the call that dayThey said you were no moreAnd then the ground gave way

I sat and cried all night
Still hoping they'd been wrong
A part of me had died
How could I carry on

As sunrise painted red

Inside my sleepless eyesStill lying on my bedI thought I heard a voice

It sounded like my love

A distant precious soundBut there was not a soulThat I could see around

I know you're still with me

In other shape or formOur union has survivedA deadly firestorm

And when I look above

I can transcend the painSoar high with me, my loveI know we'll meet again.